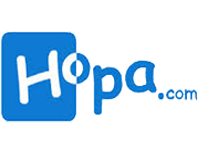 Hopa, which we think is a play on the Greek word "Opa", which means "celebrate", was originally founded in 2005 as an online casino. Hopa is registered in and licensed by Malta.
While Hopa's online casino is fantastic and delivers a comprehensive gaming experience by covering a vast range of genres, it is not the focus of our review today. Instead, we are going to focus on a more recent addition to Hopa's portfolio of services: a sports betting site.
Hopa's sports betting site has recently been launched as Hopa Sports in a bid to attract a more diverse range of customers and players.